Skook News Obituaries: October 7th, 2020
----------------------------------------
Robert W. Edwards
, 94, of Schuylkill Center Pottsville , PA, formerly of Summit Station passed away Tuesday, October 6th, at Schuylkill Center, Pottsville.
Robert was born in Philadelphia,on September 16, 1926, a son of the late Ruth and Harry Edwards Sr..
He was the widower of Helen(Fessler) Edwards who died in 2002. Also preceded in death by a son Robert A. who died in 2020.


He served in the U.S. Air Force as a mechanic.


He retired as an Assembler at Birdsboro Steel, Birdsboro PA.


Robert is survived by two sons Dean, husband of Lori Edwards, of Summit Station;Mark, husband of Elizabeth "Bunny" Edwards, of Chesapeake VA;4 grandchildren and 4 great grand children, also survived by a sister Sara Krause and a brother John Edwards both of Summit Station.

Graveside services will be held 10:30 am on Friday, October 9th at Summerhill Cemetery with Kenneth McDowell officiating.


The family requests donations to Schuylkill Center Activities Fund 1000 Schuylkill Manor Road Pottsville, PA 17901.
--------------------------------------
Patricia A. Barro Dobilas Boran
, 79 of Pottsville passed away Tuesday October 6, 2020 at Seton Manor Nursing & Rehabilitation Center.
Born October 2, 1941 in Washington D.C., she was the daughter of the late Joseph and Adele Butcavage Dobilas.
She was a member of St. Patrick Roman Catholic Church, Pottsville, Schuylkill County Quilters Guild, and volunteered at the Pottsville Free Public Library.
In addition to her parents she was preceded in death by her husband, Patrick J. Boran.
She is survived by her daughters, Patricia A. Lanz wife of Todd and Denise M. Boran-Comeau, and grandson, John A. Comeau. She is also survived by her feline friends, Suzie & Boots.
Funeral services will be held 11AM on Saturday, October 10, 2020 at Schlitzer Allen Pugh Funeral Home, 515 W. Market St., Pottsville. Family and friends may call from 9AM until the time of the service at the funeral home. Interment will be held at Schuylkill Memorial Park, Schuylkill Haven.
Please visit SchlitzerAllenPugh.com to leave a condolence for the Boran family.
----------------------------------------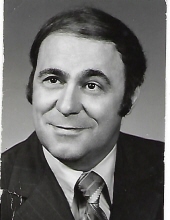 Anthony J. "Tony" Benedict, Sr.
, 86, of Pottsville, passed away on Monday morning in his residence with his family by his side.
Born in Palo Alto, on August 31, 1934, he was a son of the late Nunzio and Mary (Pignattelli ) Benedict.
Tony was a graduate of St. Stephen's High School, Port Carbon and a member of Grace Evangelical Free Church, Cressona.
He proudly served his country in the U.S. Army during the Korean Era.
Tony, also known as Mr. B., was a well known self-employed businessman in the Pottsville Community. He was co-owner of the Bur-Ben, in "Downtown" Llewellyn for several years; a manager at the Necho Allen Hotel for 10 years; and then in 1977 he purchased Pottsville Moving and Storage ; retiring in 2005.
He was a former member of the Pottsville Rotary Club and Pottsville Club.
Tony was an avid golfer. He loved his God and family.
In addition to his parents he was preceded in death by a sister, Ada Tassone.
Tony is survived by his wife, Joan (Jelus) Benedict, to whom he was married 59 years;
two sons: Anthony J. Benedict Jr., of Tempe, AZ; and Marc Benedict, of Pottsville.
Funeral Services with military honors will be held on Saturday, October 10th at 11:00 a.m. at Lord-Bixler Funeral Home, Inc., 1818 Mahantongo St., Pottsville, with Rev. Randy Ott officiating. A viewing will be held from 9:30 a.m. until time of service in the funeral home.
Interment in Charles Baber Cemetery will be private at the convenience of the family.
The family request contributions in Tony's memory be sent to: Hillside SPCA, P.O. Box 233, Pottsville, PA 17901 or Grace Evangelical Free Church Memorial Fund, 1010 Graeff St., Cressona, PA 17929.
Lord-Bixler Funeral Home, Inc. is in charge of arrangements.
Online condolences may be expressed at lordbixler.com
----------------------------------------
Timothy G. Tobin
, 80, Gilberton, passed away peacefully Monday October 5th at Geisinger Medical Center.
Born in Turtle Creek, PA, he was a son of the late Richard and Alta Bateman Tobin. Although driving truck was a passion of his, traveling and exploring each state on the way, was a bonus to his job. In addition to driving truck, he worked as a mechanic, a foreman for various coal companies and he was a part of the construction of the Lehigh Tunnel.
Tobin was a United States Army Veteran. He dedicated his life to his family and was active in his children and grandchildren's sports careers. He was involved in the Frackville Little League and Mountaineer Football programs.
In addition to his parents, he was preceded in death by his wife Marie McCabe Tobin in 1999 and his sister Ida Rudy.
He is survived by his four children: Annette and her husband John Purnell, Numidia; Timothy J. and his wife Sharon Tobin, Fountain Springs; John and his wife Kelly Tobin, West Reading; Jeanette Tobin, Gordon; his two brothers: Jack Tobin, California and Jerry Tobin, Oregon; his five grandchildren: Spencer and Caleb Tobin; Madison, Jaxson and Jenson Purnell; several nieces and nephews.
Private funeral services and interment with military honors will be held at the convenience of the family.
In lieu of flowers, memorial contributions can be made, in Tim's name, to the Potocki-Lupski Syndrome Outreach Foundation (PTLS) at PO Box 250245 Plano, TX 75025.
----------------------------------------
Dolly M Klouser
, age 85, formerly of Grove Drive, Hegins, passed away Wednesday, October 7, 2020 at the home of her daughter in Pitman.
She was born on Monday, February 25, 1935, in Hegins, a daughter of the late Clarence Knorr and the late Alverta Snyder Knorr.
She was a graduate of the former Hegins Twp High School.
Dolly was a seamstress in area garment factories and then worked for the former Penn Reel, Hegins, until her retirement.
She was a member of Friedens United Church of Christ, Hegins.
Dolly enjoyed sewing, shopping, and spending time with her family. She was very grateful for the care she received from the staff at Davitas of Frackville, the STS staff, and all of the nurses and aids that gave her excellent care.
Her husband, Eugene L Klouser, passed away in 2000. She was also preceded in death by her parents; by four brothers, Marlin, Leroy, Robert, and Elwood Knorr; and six sisters, Myrtle Herring, Hilda Stutzman, Vilolet Knorr, Pearl Bruso, Peggy Schneck, and Betty Depres.
She is survived by a daughter, Brenda J Knock and her husband Keith of Pitman; three grandsons, Shaun Stehr and his wife Tina of Orwigsburg, Chad Stehr and his wife April of Frackville, and Derek Stehr and his wife Amanda of Hegins; a granddaughter, Tiffany Stehr of Pitman; two step grandsons, Matthew Knock and his wife Lauren of Weatherly and Mark Knock and his companion Rebecca Clatch of Drums; eleven great grandchildren; and several nieces and nephews.
Funeral services will be held at Friedens United Church of Christ, Hegins, on Wednesday, October 14, 2020, at 11:00 am, with Rev. Michael C Klahr officiating.
A viewing will be held from 10:00 am to 11:00 am on Wednesday at the church.
Burial will be made in Friedens Cemetery, Hegins.
Buffington-Reed Funeral Home, Valley View, is in charge of arrangements.
Condolences can be left for the family at
www.buffingtonreed.com
.
----------------------------------------