Skook News Obituaries: October 19th, 2020
---------------------------------------
-
Margaret M. O'Donnell
, 100, Girardville (currently resided at Schuylkill Center) passed away on Sunday, October 18th.
She was born in Girardville to the late Thomas and Mary Lenahan and was a lifelong member of the former St. Joseph Church in Girardville.
Margaret was the widow of James O'Donnell and preceded in death by a brother Thomas Lenahan and a sister Mary Canavan.
Surviving are her children, Tom O'Donnell and his wife Maryclaire; Peggyanne Kieres and her husband Al; Marybeth Greshock and her husband John. Also surviving are her grandchildren Albert, Joe, Bridy, Jimmy, John, Scott and Jedd and 13 great-grandchildren. She is also survived by two sisters, Rose Griffin and husband Dave and Dolores Purcell and many special nieces and nephews.
You might say Margaret was born of a different time. Who can imagine life without driving, e-mail, a cell phone or texting. We can't even think of that for a day or two, let alone 100 years. Maybe she was on to something . The oldest of 5, Margaret graduated Salutatorian of her class from St. Joseph High School, Girardville in 1938. She helped at home with siblings and then became a homemaker as her career. Always having a Mom at home and meals together were very important to her.
Margaret found joy in roses, a good cup of tea, saying her prayers (including many requests from family members), anything Irish including Notre Dame Football, tea parties, parades and any family reunions and gatherings bringing together young and old. She will be missed as the Matriarch of those special occasions.
A Private Family Interment will be held at St. Joseph's Cemetery in Fountain Springs with Rev. Brian Miller officiating. A celebration of life will be scheduled for a later date.
In lieu of flowers, memorial contributions can be made in Margaret's name to St. Jude Children's Research Hospital, 262 Danny Thomas Place, Memphis, TN 38105.
Sign the guestbook, leave personal condolences and for further information please visit www.thomasmsullivanfuneralhome.com
Thomas M. Sullivan Funeral Home Inc., Girardville is in charge of the arrangements.
-------------------------------------
Charles Kapp
, 65, of Pottsville passed away Sunday evening at his residence.
He was born on September 10, 1955.
Charlie worked for Miller's Reconditioning Shop, Pottsville. He enjoyed working and detailing cars.
He is survived by his wife, Deborah L. (Boris) Kapp, step-sons, Keith Brobst and Michael Brobst Jr., brother, George Kapusnick, and his feline companion, Lucy.
Service will be private and at the convenience of the family. Schlitzer Allen Pugh Funeral Home has been entrusted with the arrangements. Please visit SchlitzerAllenPugh.com to leave a condolence for the Kapp family.
In lieu of flowers the family requests memorial contributions be made to Gift of Life Donor Program 401 N. 3rd Street Philadelphia, PA 19123.
-------------------------------------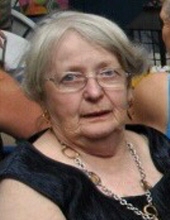 Patricia L. Helterbran
, 75, of Pottsville, passed away peacefully on Saturday evening in her residence with her family by her side.
Born in Pottsville, on March 3, 1945, she was a daughter of the late Rita (Eagan) and John L. Clark.
Pat graduated from Nativity BVM, class of 1962. She attended St. Patrick R.C.C. and was a member of the former Mary Queen of Peace.
She spent many years working in factories as a seamstress before becoming the beloved "KFC Donut/Ice Cream Lady, Miss Pat," where she was employed for the past 18 years.
Pat loved her family dearly and most enjoyed spending time with them. She was a member of Women of the Moose.
In addition to her parents, she was preceded in death by her husband, Alex G. Helterbran, in 2013, whom she married in 1986; brothers: John (Jack), William, Joseph, and Daniel Clark; sisters:
Germaine Schuettler, and Mary Ann Clark.
Pat is survived by a daughter: Lynn Ann Bierman, widow of Gary, of Pottsville; a son, Jerome S. Hranchock, with whom she resided, of Pottsville; grandchildren: Kevin Bierman, husband of Alison; Katelynn Miller, wife of Jon; Megan Koehler, wife of Andrew; Shane Hranchock, husband of Alexis; Kelsey Hranchock; Dylan and Harrison Cummings; great grandchildren: Aidan and Colton Bierman; Jaxon Koehler; and Violet Miller; brother: Gerard Clark, of Pottsville; sisters: Kathleen Reber, of
Minersville; and Maureen Adams, of Pottsville; several nieces and nephews; and several grand nieces and nephews.
Mass of Christian Burial will be celebrated on Friday, October 23rd, at 11:00 a.m. at St. Patrick R.C.C., 319 Mahantongo St., Pottsville. A viewing will be held on Thursday evening from 6-8:00 p.m. and on Friday from 10:00 a.m. until the procession will leave for the church at Lord-Bixler Funeral Home, Inc., 1818 Mahantongo St., Pottsville.
The family request contributions in Pat's memory be sent to: Ronald McDonald House of Danville, Inc., P.O. Box 300 Danville, PA 17821
Lord-Bixler Funeral Home, Inc. is in charge of arrangements.
-------------------------------------
Leroy A. Boyer (Shug)
, 88, of New Boston, formerly of Newtown/Tremont, PA, passed away peacefully Saturday at Lehigh Valley Hospital, Sch. East, Pottsville, under the care of Compassus Hospice.
Leroy was born in Rausch Creek August 3, 1932. He was the son of the late Theodore S. Boyer, Sr. and Jennie M. Kocher Boyer Wolff.
Leroy was of the Lutheran Faith but for the last 3 years he attended St. Teresa of Calcutta Parish, Mahanoy City.
Leroy was an Army Veteran, serving in both the Korean Conflict and Vietnam War. He receive the Good Conduct Medal w/ 1st thru 4th Awards, Vietnam Campaign Medal w/ 60 Device, Vietnam Service Medal w/ 3 Bronze Service Stars, Vietnam Cross of Gallantry w/ Palm, Bronze Star Medal, 4 Overseas Bars, 7 Service Stripes, and the National Defense Service Medal w/ Oak Leaf Cluster.
He was a Wheel Vehicle Mechanic and worked as a mechanic at Fort Indiantown Gap. After his retirement from the Gap, he worked as a fork lift mechanic at St. Jude Polymer Plastic, Frackville until he retired from there. He loved fixing anything.
In addition to his parents, he was preceded in death by his wife Bernice O. Matruder Boyer in 2012; a daughter Jennifer Solt; a son Lee Boyer; a brother Theodore Boyer, Jr.; a sister Dorothy B. Lurwick.
Leroy is survived by his two step daughters, Marie M Costa and husband John of New Boston, whom he had been living with for the last 3 years due to medical issues, Patricia M Bachman and husband Edgar of New Boston; 3 grandchildren; 6 great grandchildren; two sons, Dennis and wife Cindy Boyer of Pine Grove, Wayne and wife Lynn Boyer of Cressona; two daughters, Joyce Wetzel and Beverly Boyer Ney, both of Tremont; a son-in-law Gerald Solt of Tremont; a daughter-in-law Melissa Boyer of Liberty; 16 grandchildren; 19 great grandchildren; a brother Steve and his wife Jane Boyer of Tremont; a sister Nancy Brown of Raleigh, NC; a sister-in-law MaryJane Boyer of Mechanicsburg; nieces and nephews; his caregiver Kimberly Selley who called him Uncle Leroy; and his beloved dog Patunia.
A viewing will be held on Friday, October 23, 2020 from 6:00 P.M. until 8:00 P.M. at the H. L. Snyder Funeral Home, Inc., Pine Grove. Graveside Services and interment will be held at the convenience of the family at Indiantown Gap National Cemetery with Pastor Barry Spatz officiating.
In lieu of flowers, the family would prefer contributions be made to either the Hillside SPCA, P. O. Box 233., Pottsville, Pa. 17901 or Compassus Hospice & Palliative Care, 1001 James Drive Suite B-34 Leesport, PA 19533 in his memory.
You may send condolences online at www.hlsnyderfuneralhome.com
-------------------------------------
Richard Charles Kline, Sr.
, 86, of Orwigsburg, moved on to his Heavenly home on Saturday, October 17. Richard was born in Auburn on September 30, 1934, a son of the late Helen Irene (Petry) and William Charles Kline, Sr. He was the husband of Jeanette Ruth (Hartz) Kline.
He served in the U.S. Army and was owner of R-K Body Shop located outside of Orwigsburg. He fulfilled his calling as a Minister working in various ministries, including prison Ministry. He touched many lives.
Richard is survived by children Terri, wife of Richard Kriner; Karen Kline; Richard C. Kline, Jr. Husband of Sandra; and Heidi, wife of Gary Butt; A sister, Elaine, wife of Paul Aikey. He is also survived by grandchildren Andrew, Rebekah, Jordan, Bartholomew, Makarios,and Malachi, as well as two great grandsons Timothy and Zechariah.
He was predeceased by two brothers William Kline Jr. and Kenneth Kline.
Graveside services, with Military Honors, will be held at 1 PM on Thursday October 22, 2020 at Auburn Church of God Cemetery in Auburn. Hamilton-Breiner Funeral Home & Cremation Services, Inc. has been entrusted with arrangements. In lieu of flowers, donations can be made to Jesus Name Assembly of the Apostles Faith Ministry, 1229 Chestnut Road, Orwigsburg, PA 17961
-------------------------------------
Joseph G. Neidlinger
, 45, of Pottsville, passed away on Saturday at Geisinger Medical Center, Danville while courageously battling cancer for the third time.
Born on October 23, 1974 in Pottsville, he was a son of the late John Neidlinger and Sharon Lee Hancock Neidlinger. Raised in Llewellyn, he attended Minersville schools. He was employed by Market Square Apartments, Pottsville.
Joe is survived by his fiancé, Maria Alves; his best friend, Bruiser; two daughters, Breanna Neidlinger (companion, Michael Kulik), Falling Waters, West Virginia, and Allison Roeder, Kutztown; two stepchildren, Anthony Alves (spouse, Briana), Pottsville and Emily Cook (fiancé, Tom Taylor), Minersville; his maternal grandmother, Marion Hancock, Minersville; five siblings, John Neidlinger, Mahanoy Township, Jean Ehlinger (spouse, Ben), Schuylkill Haven, June Kline, Orwigsburg, Jim Neidlinger, Llewellyn, and Lisa Tomes, Coaldale; nieces and nephews.
Joe was a proud member of the biker community and had the pleasure of sharing the road with the most caring brothers and sisters who have continued to take care of their brother; offering support in every way possible.
Joe's courage and strength was known and felt by so many. He gave of himself freely and will be missed terribly.
Joe's life will be celebrated on his birthday, Friday October 23, 2020 , with a gathering of family and friends at the the Good Intent Hose Co No 1, 12 Silverton Rd, Llewellyn, commencing at 4:00 P.M.
Donations, to be used according to the needs of the family can be made by following the "Donate Funeral Funds" link above.
-------------------------------------
Emmagene H. Wagner
, 65 of Pottsville, died Friday at Lehigh Valley Hospital-Cedar Crest, Allentown.
She was born July 10, 1955 in Pottsville daughter of the late Clyde Ehlinger and Ethel Sharp Santai.
She was a 1974 graduate of Pottsville Area High School.
Emma employed by Big-Lots Distribution, prior to retiring.
Throughout her life Emma enjoyed going the beach and spending time with her family.
Surviving are her 2 daughters, Brandi Miller and her husband Trevor, Schuylkill Haven; Crystal Wagner, Los Angeles, CA; a son Byron Wagner, and his wife Justine, Greer, SC; 7 grandchildren, Byron, Tyler, Hannah, Reese, Gwynivere, Hayden and Gavin; siblings, Sharon Bradley, Pottsville; Janice Torola, Pine Grove; Bert Ehlinger, Minersville, Edward Santai, Pottsville; Theresa Gaffney, Pine Grove; Matt Santai, Pottsville; Melissa Santai Clarke, Pottsville; Nieces and Nephews.
Services of Remembrance celebrating Emma's life will be held Thursday at 11AM from James E. Humphrey Funeral Home, Pottsville. Family and Friends are invited to a visitation from 9-11AM Thursday at the funeral home. The family would prefer remembrances in the form of contributions for in memory Emma be made to Servants To All, 4 S. Centre St. Pottsville, PA 17901. Anyone attending is asked to please wear a mask. Please share your memories and condolences with Emma's family by signing the guest book at
www.jehumphreyfuneralhome.com
-------------------------------------