Skook News Obituaries: October 26th, 2020
---------------------------------------
-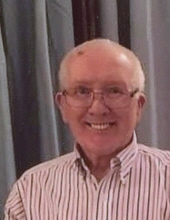 Wesley Litchko
, 83, of Ashland, PA passed away on Saturday, October 24, 2020 at Lehigh Valley, Allentown, PA.
Born in Catawissa, PA February 22, 1937 the son of the late John and Bertha (Fago) Litchko. He worked in coal mines most of his life and was a former Ashland police officer. He was an avid hunter and fisherman and loved training beagles and flying pigeons. He was a member of the Assumption of Blessed Mary Church, Centralia, PA. He was of strong Faith and spent many hours praying for others.
He loved spending time with family. He was always smiling and always making others laugh and smile.
He was a fan of the Dallas Cowboys and Ohio State Football.


He was the husband of the late Mary Teresa McGinley Litchko to whom he was married to for 60 years, 5 months, and 3 days.


He was survived by 4 children: Teresa Moses, (Scotty), Lavelle; Wesley Litchko (Rhonda). Mt. Carmel; Steven Litchko (Danielle), Ashland, Rosemary Postick (Michael), Fountain Springs. 7 Grandchildren: Robert, Nicole, Michelle (Freed), Rick, Scott Litchko, Steven Litchko, and Amber Boyer. 5 Great Grandchildren: Brody, Bailey, Tavin, Kaden, Braxton. 2 Sisters: Julia Fedako and Theresa Banic. 1 Brother: Nicholas Litchko.


Preceded in death by Brothers and Sisters: Mary, Bertha, George, Joseph, Michael, Dorothy, Martha, Elizabeth, and John. And infant brother and sisters: John, Anna, Andrew, Theodore, Margaret.

A Mass of Christian Burial will be celebrated Thursday, October 29, 2020 at 11:00 AM at the Assumption B.V.M. Church, Centralia with Rev. Mark Fesniak officiating. Viewing will be 6:00-8:00 PM Wednesday, October 28, 2020 and 9:30-10:30 AM Thursday, October 29, 2020 at the Kull-Heizenroth Funeral Home, Ashland. In lieu of flowers, memorial contributions can be made to the Assumption B.V.M. Church, South Center St., Aristes, PA 17920 We ask that COVID-19 guidelines and practices by used during the services and visitation for Wesley. Kull-Heizenroth Funeral Home, Inc. is in charge of arrangements. Charles Heizenroth III, Supervisor.


Charles J. Matern, Jr.
, 94, of Frackville passed away Friday, October 23, 2020 at Lehigh Valley Medical Center-East, Pottsville.
Born in Paterson, NJ, September 26, 1926, he was a son of the late Charles J. Sr. and Helen Devaney Matern. He attended St. Bonaventures Grammar and High School, Paterson, NJ
He was a U.S. Navy veteran having served during WWII obtained the rank of Seaman 2nd class and was last stationed in Lido Beach, Long Island, NY.
He worked for Curtis Wright Corporation, Caldwell, NJ for 32 years as a Radiographer Technician.
He was a member of St. Joseph the Worker Catholic Parish, Frackville
Charles was preceded in death by his wife of 60 years, Adele M. Nahas Matern, in 2014; daughter; Carol A. Andrews, in 2011
Charles was affectionately known as Jiddu and is survived by a daughter; Maureen McNelis and husband Thomas, Ringtown; two sons; Charles Matern, Frackville and Todd Matern and his wife Eileen, Ashland; daughter-in-law Barbara Matern, Frackville; grandchildren; Jessie Matern, Joshua Matern, Jacquelyn Conapinski, John Matern, Allie Andrews, T.J. Matern and Molly McNelis; great-grandchildren; Paige Matern, Kolton and Kirsten Conapinski, Christian Smith, Matthew and Destiny Matern; three sister-in-laws; Helene Nahas, Rose Matthews and Bernadette Nahas; a brother-in-law, Robert Nahas; many nieces and nephews; grandnieces and grandnephews.
A Mass of Christian Burial will be celebrated at 11:00 a.m. Tuesday, October 27th, St. Ann's Roman Catholic Church, Frackville, with Rev. Brian Miller as celebrant; Relatives and friends are invited to a visitation from 10 a.m. till time of Mass in the Church; following all CDC guideline. Interment will be St. Joseph Cemetery, Englewood/Frackville.
-------------------------------------
Gertrude T. Donahue
, age 101, of Port Carbon, PA passed away Monday, October 26th, 2020 at Schuylkill Center in Pottsville.
Born in Mahanoy City, PA on August 4, 1919, she was the daughter of the late Martin J. and Gertrude W. (Deane) Donahue.
Gertrude worked as a Office Manager for the Home Life Insurance Company and was a member of the former St. Stephen Roman Catholic Church in Port Carbon,.
In additon to her parents, she was preceded in death by her sisters and brothers: Eleanor Donahue Mandichak, Catherine Donahue Koenig, Martina Donahue Carlile, Martin P. Donahue and James E. Donahue, and a niece Martina Donahue Roach.
Gertrude is survived by six cherished nieces and nephews: Patricia Mandichak, Barbara Zamora, Edward Mandichak, James Mandichak, Mark Donahue and George Stephen Donahue.
A Mass of Christian Burial will be celebrated at the St. Clare of Assisi Roman Catholic Church in St. Clair at 10:30AM on Thursday, November 5th, with Msgr. William Glosser officiating.
Relatives and Friends are invited to a viewing on Thursday morning from 9:30-10:30am at the Church.
Interment will be held in the Immaculate Conception Cemetery in Tremont.
In lieu of flowers, memorial contributions may be made to St. Clare of Assisi Church Memorial Fund 250 East Hancock Street St. Clar, PA 17970.
The Robert A Evans Jr Funeral Home in Port Carbon is in charge of arrangements. Please send condolences to www.robertaevansjrfh.com
-------------------------------------
Arianna Lynn Griffiths
, 5 weeks of age, of Cressona, passed away on Wednesday at Lehigh Valley Hospital, Cedar Crest.
Born on September 13, she was a twin daughter of James Undercuffler and Stephanie Griffiths, Cressona.
She was preceded in death by a maternal aunt, Katie Lynn Price-Knouse.
In addition to her parents, Arianna is survived by her twin sister, Bella Elizabeth Griffiths, still hospitalized; her maternal grandparents, Ronald Griffiths, Pottsville, and Alexis Griffiths, Cressona; her paternal grandparents, Ronald Acker, Lenhartsville, and Sherry Lynn Undercuffler, Pine Grove; a maternal aunt, Tara Eubanks, three maternal uncles, Ronald Griffiths, Jr., Ryan Griffiths and Aaron Griffiths.
Services are private.
-------------------------------------
Jean Snyder
, 71, of Mar Lin, Norwegian Township, passed away on Saturday at her home.
Born on January 14, 1949 in Pottsville, she was a daughter of the late Herbert and Mildred Drye Schneider. She was a 1967 graduate of Minersville High School. She was employed in the local garment industry.
She was a member of Zion Lutheran Church, Minersville. She was also a member of the ILGWU. She enjoyed cruises and attending local weekend dances. She was also fond of camping and attending NASCAR races.
Preceding her in death was a sister, Joan Schneider.
Jean is survived by her husband of 46 years, Alan E. Snyder; two children, Lisa Dronick (spouse, Richard), Cressona, and Shawn Snyder (spouse, Lisa), Saint Clair; seven grandchildren, Daryl Dronick, Bryan Dronick and Richie Dronick (spouse, Lindsey), Richie Cappell (spouse, Ashley), Lucy Snyder, Cora Snyder and Lily Snyder; four great-grandchildren. She is also survived by a brother, David Schneider (spouse, Rosemarie), Brier City, Norwegian Township; a brother-in-law, Donald Snyder (spouse, Joan), Minersville.
The family will accept visitors at Dutcavich Funeral Home, 200 Sunbury St., Minersville, on Thursday from 6:00 P.M. Funeral services will be held at 7:00 P.M. On Friday, a procession to Indiantown Gap National Cemetery will form at the funeral home at 12:15. Committal at the National Cemetery will be at 2:00 P.M. Visitors and attendees are expected to follow CDC guidelines. The family prefers donations to the American Cancer Society, 1600 Elk Avenue, Pottsville, PA.
-------------------------------------
Mary E. Muldowney
, 99, of Pottsville, passed away on Sunday at Schuylkill Center.
Born on Saint Clair on May 7, 1921, she was a daughter of the late Joseph and Mary McCool Bauer. She attended Saint Boniface School in Saint Clair.
She was a member of St. John the Baptist Church, Pottsville.
Preceding her in death was her husband of 62 years, Joseph F. Muldowney, in 2007; five siblings, William Bauer, Edward Bauer, Charles Bauer, Joseph Bauer and Sister (Dolores) Leonore, S.S.J.
Mary is survived by two sons, Joseph Muldowney (spouse, Christina), Myrtle Beach, South Carolina, and Kevin Muldowney (spouse, Tammy), Schuylkill Haven; six grandchildren, Kelly, Megan and Logan Muldowney, Nicole Muldowney, Joshua and Courtney Muldowney; five step-grandchildren; five great-grandchildren. She is also survived by a sister, Dorothy Conway, Pottsville; nieces and nephews.
Arrangements are incomplete.
-------------------------------------
Catherine "Kitty" Navitsky (Shrader)
90 of Drexel Hill & formerly of Shenandoah passed away peacefully surrounded by her family Friday, October 23. Kitty was born February 16, 1930. The youngest of 10, she was the daughter of John & Catherine Schrader & last of her immediate family. Or as she would say "I'm the last of the Mohicans!". Siblings Margaret, Roy, Robert, John & Harold died in Kitty's youth. Her sisters Myrtle, Lina, Nellie & Mae were our cherished aunts & our mom's life long friends.
Music filled Kitty's life. She was the eternal Bobby Soxer and Frank Sinatra was often heard crooning from wherever she happened to be.
Kitty was the beloved wife of "Our Daddy" Walter D. Navitsky. They met at a Valentine's Dance in 1948 & were married for 39 years until his death in 1988. She was his "Penelope", to her he was "Scarmooch". Hardly a day passed in the 32 years since he's been gone that she didn't mention his name. Stardust was their song and whenever it played, it was family protocol to stop what we were doing, look up at the sky & acknowledge "Our Daddy".
Kitty was a proud graduate of the J.W. Cooper High School Class of 1948 & a member of the Glee Club, Dramatics Club & Drill Team. She never had a taste for sports, be it on tv or one of her kids or grandkids games. However, she would hold a sleeping baby for hours, had endless enthusiasm to read to a toddler or play a board game with a child. Miss America was Kitty's Super Bowl & we were all polled the week leading up to the big event on who we had favored to win. Kitty was a comedian's dream. A simple knock-knock joke would elicit a genuine belly laugh. She loved mischief & shenanigans and was sentimental & patriotic.
Our mom loved to travel and was the best sidekick, having equal enthusiasm for a cross country road trip or a just a day at the beach. Kitty visited every one of the 48 contiguous states & had the refrigerator magnets as proof. She danced on stage with Chuck Berry, gave Harry Connick Jr. a candy bar & kissed Bill Murray on her 75th birthday on a train to New York.
Our mom was a private person & never wanted anyone to know her business. However, she loved when any of us got good publicity in the local newspaper & loved the pageantry of a parade. With that in mind we believe it was kismet that the Mayor of her hometown of Shenandoah was doubling as the funeral home driver the day she died. Only fitting that the Mayor escorted her on her final 90 mile journey home.
Kitty is survived by children Kathleen & Carson Long, Holly & Dennis Tempest, Wally Navitsky, Melissa Navitsky & Mimi McCarthy. She was Mom Mom to Jesse & Michelle Chiscavage, Tony & Ashley Usalis, Amy & Greg Vagelatos, Hilary & Will O'Keefe, Nathan Navitsky, Curtis Navitsky & Timmy Tempest. Mom Mom Sugar to Catherine, Eliza, Darla & John McCarthy. Her Great Grands are Lily Chiscavage, Ty, Boone & Emma Usalis. She is also survived by cousins, nieces & nephews. Her 1st & eldest Grandson Albert Chiscavage sadly passed away in 2017.
Graveside services will take place on Thursday, October 29th in the Odd Fellows Cemetery, Shenandoah Heights and will be officiated by Pastor Jack Murray.
Oravitz Home for Funerals Inc, Shenandoah are entrusted with the arrangements.
Due to Covid-19, all social distancing guidelines and mask requirements will be followed.
To offer condolences, please visit: www.oravitzhomeforfunerals.com
-------------------------------------
These Obituaries are brought to you by