Skook News Obituaries: January 14th, 2021
Obituaries published from the Schuylkill County area.
----------------------------------------------
Larry George Hornberger
, 78, of Hegins, passed away Monday, January 11, 2020 at his home.
Larry was born in Hegins, on July 28, 1942, a son of the late Cora M (Smith) and George E Hornberger.
He was employed as a Lineman at PP&L for 40 Years and most recently attended Calvary Independent Church in Lykens.
He was a 50 year member of the F&AM Valley Lodge #797 of Valley View.
Larry began singing at a young age, traveling with his brothers and sisters with the Kuch Sisters and was well known in the local area for his singing. He was proud to have appeared two times with The Couriers on their TV show on WGAL 8. He also enjoyed hunting and fishing.
Larry is survived by two sons Darvin, husband of Amber Hornberger, of Hegins; Christian Hornberger, of Hegins; two grandchildren Chase A Hornberger, of Kenosha, WI and Jenna J Horngerger, Heings, and two brothers, Charles Hornberger and Robert Hornberger.
He was preceded in death by one brother Albert Hornberger, and two sisters Charlotte Taiclet and Elma Scheib.
A private graveside service will be held at Hepler's Church of God Cemetery, Pitman with Rev. Robert Straub officiating.
The Stephen R. Rothermel Funeral Home, Klingerstown has been entrusted with the arrangements. To sign the online guest book please visit www.srrfh.com
----------------------------------------------
Eugene J. Burdick
, 76, formerly of Tamaqua, PA died on Wednesday, January 13, 2021 in Weatherly, PA. He was the husband of Patricia (nee Hertzig) Burdick to whom he was married 41 years.
Born in St. Charles, Missouri on October 5, 1944, Eugene was the son of the late Eugene A. and Elizabeth A. (nee Geiger) Burdick. Having attended Tamaqua schools, he served in the Navy during the Vietnam War. For over 30 years, Eugene was employed by All Steel, West Hazleton, PA and later he worked for Highwood USA in Hometown, PA.
In addition to his wife Pat, he is survived by sons, Eric Burdick of Tamaqua and Aaron Burdick of Lansford, PA and daughter, Jeanine Edmonds and her husband, Lance of Hometown; granddaughters, Alana Edmonds and Adalyn Edmonds; sisters, Bernadette DiGilio of Oregon, Theresa Brooks of Coaldale, PA, and Denise Burdick of Oregon; a nephew; and several nieces.
Online condolences may be made at www.zgfuneralhome.com. Arrangements are being handled by the Zizelmann-Gulla Funeral Home and Cremation Services, Inc., Tamaqua.
----------------------------------------------
William T. Mills
, 83, of Pottsville, passed away Wednesday, January 13th, at Geisinger St. Lukes Hospital, Orwigsburg.
Born in Washington DC on August 20, 1937, he was a son of the late Howard Mills & Katherine (Yocum) Mills Zimmerman.
He was the husband of Karen S. (Ryland) Mills. The couple was married 61 years.
William was a member of St. John's Evangelical Lutheran Church of Friedensburg.
He was a graduate of Pine Grove High School; and served in the U.S. Army.
William was employed by Carpenters Union Local #287.
In addition to his wife, he is also survived by a daughter, Suzan, Wife of Kurt Greenwalt, of Sch. Haven; a son,William G., husband of Megan, of Sch. Haven; 3 grandchildren: William Ryland Mills, Jessica Greenawalt, and Ben Greenawalt and his fiance, Morgan Aulenbach. He is also survived by a brother, Howard M. "Buddy" Mills, husband of Shirley of Harpers Ferry WV, and his best friend, Daryl Dissinger.
In addition to his parents, he is also preceded in death by his brother, Albert Lee Mills.
A Celebration of Life Funeral Service will be conducted on Tuesday, January 19 at St. John's Evangelical Lutheran Church of Friedensburg at 10:30 am with Pastor Peggy Sue Pfeffer officiating.
A viewing will be held prior from 9:30 am until the time of the service at the Church.
Interment will follow at Saint John's Union Cemetery, Friedensburg.
----------------------------------------------
Frances T. Lofton
, 89, passed away January 14th at Seton Manor, Orwigsburg, where she had been a resident.
Born in Camden, NJ, she was a daughter of the late Peter M. & Nellie (Mesevich) Lofton.
In addition to her parents, Frances is also preceded in death by her sister, Rita V. Lofton.
She was employed as a chemist for Smith, Kline, French Pharmaceutical.
Frances is survived by her brother, Reverend James J. Lofton.
A Mass of Christian Burial will be held at St. Ambrose Roman Catholic Church, Schuylkill Haven, on Saturday, January 23rd at 10:30 a.m.
A visitation will be held at the church from 9:30 - 10:15 a.m. on Saturday, January 23rd.
Interment will follow at Calvary Cemetery, Pottsville.
----------------------------------------------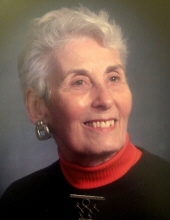 Ernestine Loeb Hammel Urken
passed away in the early morning hours of January 13th. She was born on Oct 24, 1925 in Reading. Ernie was the daughter of Rena Ehrlich Loeb Goodman and Milton S. Loeb.
Ernie was a daughter, a sister, wife, mother, grandmother, great grandmother, aunt, a great friend and human being.
She was the loving wife of two wonderful husbands, Simon E. Hammel and Karl Urken, both of whom pre-deceased her. She raised her family in Pottsville and after marrying Karl in 1978, she moved to Ewing Township, New Jersey. As the mother of four sons, she was busy with the activities of raising them, such as education, sports, scouting, and providing for a traditional Jewish family life.
She was active in many areas of civic and religious life. Ernie referred to herself as a Professional Volunteer. She was active with organizations related to her religion in both Pottsville and New Jersey. She was President of the Sisterhood of Oheb Zedeck Synagogue and National Vice President of the Synagogue's Women's League. She was on the board of her New Jersey Synagogue, Adath Israel, where she had various leadership roles.
Ernie was the first President of the Pottsville Religious Council and was also President of the Pottsville Rotary Club auxiliary, the Torray Club.
After moving to New Jersey, she continued her civic activities. This included American Red Cross, Trenton Area Soup Kitchen, Mercer County Child Development Center, reading to children at Head Start and others…
Ernie was so active in these and other organizations that she was the recipient of the Jefferson Award, a national award for outstanding community and public service, sponsored by The Times of Trenton. She served as a role model and passed her trait of being civic minded and helping to repair the world along to her family.
Surviving from both families are her 3 sons Victor (Dena), Robert (Bonnie), Steven (Renee), and daughter-in-law Martha. Son Lee predeceased Ernestine. Also surviving, 2 stepdaughters Suzi (Richard) Troll, Patty (Adolf) Herst, a stepson Paul Urken, 16 grandchildren, and 24 great grandchildren!
A virtual memorial service will be held on Sunday, January 17 at 2:00 PM. The Zoom link is:
https://us02web.zoom.us/j/82330589492?pwd=TjBYTXFKam1Xa1FrUDdsVWp1VWhkQT09
Her burial will be at the Oheb Zedeck Synagogue Cemetery.
In lieu of flowers, please send donations in her memory to Adath Israel, 1958 Lawrenceville Rd., Lawrenceville NJ 08648, or a charity of the donor's choice.
Lord-Bixler Funeral Home, Inc. is in charge of arrangements.
Online condolences may be expressed at lordbixler.com.
----------------------------------------------
Kay Trynovsky
, 100, Frackville passed away Wednesday January 13th at her home.
Funeral services will be private.
Thomas M. Sullivan Funeral Home Inc., Frackville is in charge of the arrangements.
----------------------------------------------
Dennis Emery Neidlinger
, 68, of Schuylkill Haven, formerly of Llewellyn, Branch Township, passed away of COVID-related complications on Tuesday at Geisinger St. Luke's Hospital, Orwigsburg.
Born on February 5, 1952 in Llewellyn, he was a son of the late George and Wanda (nee Guida) Neidlinger. He attended Minersville Area schools and pursued his passion for cooking in the food service industry as a chef.
Denny, as most people called him, was an avid hunter and fisherman, having made the newspaper on two occasions: first, for harvesting an albino deer; and later, for catching a record-setting fresh-water eel. As a younger man, he enjoyed hiking, including several adventures across the country.
A loving son, brother and uncle, he was preceded in life by his parents, two brothers, John and George Neidlinger; three sisters, Shirley Legeza, Carol Morris and Deborah Baynes; three nephews, Joseph Neidlinger, Eric Neidlinger and John Felmey; a sister-in-law, Sharon Neidlinger.
Denny is survived by his niece, Jean Neidlinger Ehlinger (spouse, Ben), Schuylkill Haven. More like a daughter than a niece, Jean was Denny's caregiver and "sidekick", always there for his needs.
He is also survived by three siblings, Brenda Neidlinger Kukish (spouse, George), Llewellyn, Randy Neidlinger, Harrisburg, and Bonnie Barry (spouse, James); numerous additional nieces and nephews; great nieces and great nephews.
Denny touched our lives in a very loving and compassionate way. He will be missed and loved always.
Sleep well, old soul…we love you!
----------------------------------------------
Richard L. "Shadow" Neidlinger
, 55, of Tower City, passed away very unexpectedly Wednesday, January 13, 2021 at his home.
Born in Pottsville, December 12, 1965, a son of Rosalind "Rose" Earhart Neidlinger, Tower City and the late Jonathan "Nooch" Neidlinger.
Shadow attended Williams Valley High School; He has been employed by Guilford Mills, Pine Grove for over 35 years.
He was a member of the Tower City Fire Company for 31 years, Loyal Order of Moose, Tower City; Orwin Fire Company and the Orwin Gun Club.
In addition to his father, he was preceded in death by two brothers, Randy and Jonathan Neidlinger.
Surviving in addition to his mother are a brother, Jeffrey Neidlinger, Tower City; several nieces, nephews and cousins.
In keeping with Shadow's wishes there will be no services. Memorial donations in his honor can be made to the Tower City Fire Company, P.O. Box 22, Tower City PA 17980 or the Tower Porter EMS, P.O. Box 33, Tower City PA 17980.
The Dimon Funeral Home & Cremation Services, Inc., has been entrusted with arrangements. To send condolences to the family visit www.dimonfuneralhome.com
----------------------------------------------